Hits: 547

What are they? They are combination covers and clips molded into one piece. We can now take a set of white LED lights or white incandescent lights and change the color. What colors can we change these to? This is the great part!!! When we are finished, we will have 17 colors or 18 if you include the clear combo cap!
Red
Green
Lime Green
Blue
Teal
Yellow
Orange
Pumpkin Orange
Purple
Pink
Coral Pink
Deep Pink
Light Brown (I can have brown deer now)
Brown
Light Brown /Skin tone
Grey
Grey-black (Santa's boots and belt no longer have to be blue!)
Clear (the clear is just to keep everything in perspective). You do not want to have your frame with a number of colors and then not have a combo clip on a light you just want to keep white. Use the clear for any lights you want to keep white.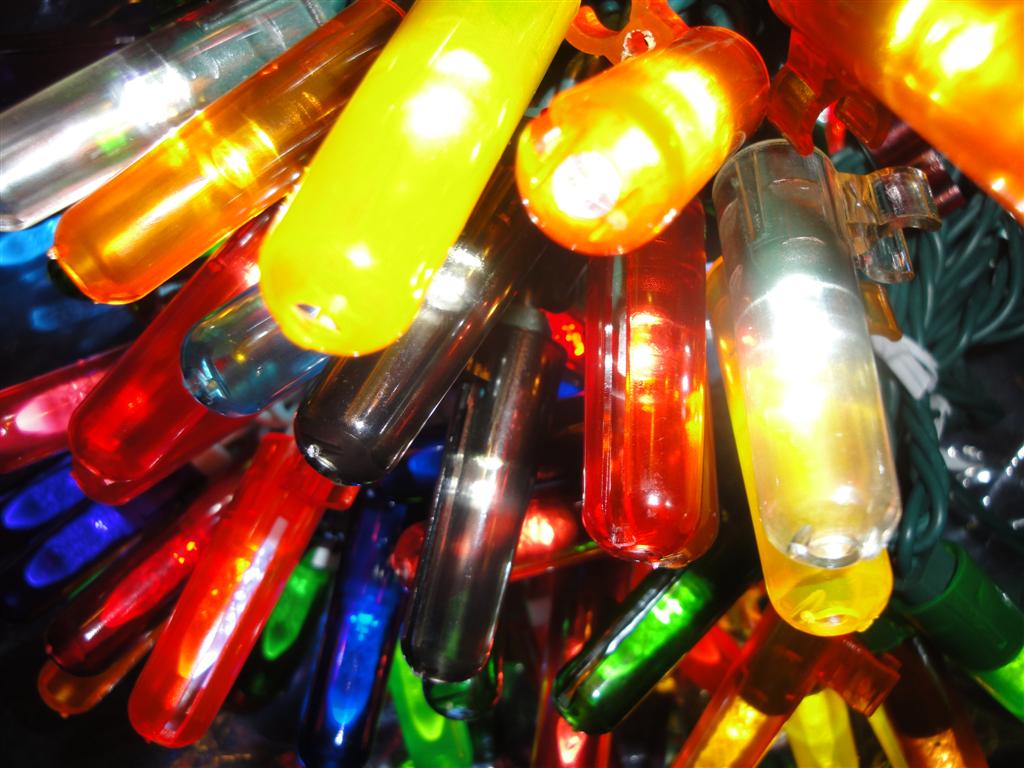 We will now have the option of customizing our wire frames to the hilt!
Questions and Answers
Q – What happens if water gets trapped inside?
A – The covers are made with a open slit on the back side the whole length of the cover and a round hole at the tip. This will allow water to drain out and dry since the air will be able to pass through them.
Q – Wont they look funny with a slit going the length of the cover?
A – No, the slit is hidden and is directly above the clip. When clipped onto the frame, the slit will be face down to the frame itself.
Q- How do I know what size to get for my lights?
A- If you have our M5, M6 or 5M Concaves, let us know and we will send you the correct size. If you have the incandescent's from Walmart or Hobby Lobby we will have combo clips to fit those as well. Otherwise we highly recommend that you order a Combo Clip Sample Pack for $6.00 with free shipping. In the sample pack you will receive all sizes available and one each of all the color combo clips we offer.
Here are the measurements: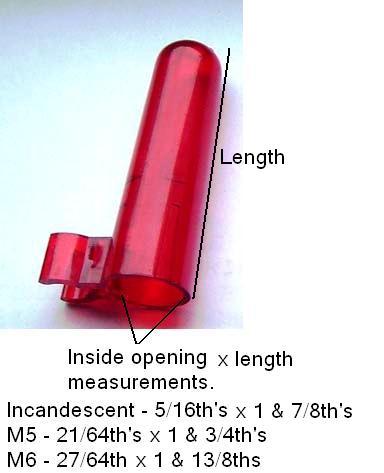 Q – Do you have the combo clips for the mini incandescent lights?
A - Yes we do. We know that they will fit the Walmart and Hobby Lobby incandescent lights.
Q – Will you sell the combo clips in a package or individually?
A – We will sell them both ways. You will be able to mix and match whatever you like.
Q - So, am I saving money by purchasing the cover-clips?
A – Yes depending on how you look at it. For example – You could choose to purchase the replaceable light strings that you can put any color LED in the light string that you want and be stuck with only the basic LED colors (red, white, blue yellow and green) or you can purchase a string of waterproof, non replaceable, full wave White LED M5, M6 or 5M Concave's and have the added bonus of customizing your lights with all of the colors of the rainbow plus some.
You will not need to purchase the ¼" wire frame clips since the combo clip already has the clip attached to the cover.  The combo clip light cover is approximately ¼" longer than the light itself so, you will be saving 2 lights per every 12" of space on your wire frame.
Think about this… Santa no longer needs to have blue boots and a blue belt… they can be a grey-black color the way they should be.
The reindeers don't have to be white. They can be brown with just that one red light for his nose. How about the whitetail deer or the white spots on a deer?
The penguins can be a grey-black color where they should be and have the yellow orange beaks and not blue or all white.
Our elves can have a flesh tone skin and not a bright white. The elves can even have teal color pants or jackets. (something different)
Use blue and teal together for water effects. (adding contrast and depth)
Santa's face can have a flesh tone and then we can tell where his face is and where the fur on his hat begins. You can even do a color graduated-gradient design if you choose to. Add some depth and character to your wire frame pieces. So you see…. It all just depends on what you want the outcome of your frame to look like.  That's what the cost factor comes down to.
Q -With the new combo clip… how do I know how many I will need for my wire frame?
A – If you measure your frame out, keep in mind that you will need 6 combo clips per foot.  I am judging this by putting the lights on tip to end, just so they are barely touching each other on the wire frame.  If you put your lights on the wire frame just so that they are barely touching not using the combo clips, you would normally use 8 lights per 12" section.
Q - Besides adding color is there anything else that the combo clips do for the lights?
A- Yes, the cover makes the lights look bigger than what they actually are. When the cover is placed over the light, it magnifies the size of the actual light. The cover extends approximately 1/4" past the tip of the bulb itself.
If you have any other questions, email [email protected].