Home Page
If you have any questions or issues feel free to email [email protected]
or call (262) 949-2425
***UPDATE ON OUR CHINA SHIPMENT*** Unfortunately, our shipment has been delayed again!!! I received a message from our shipper stating the following… "Several vessels have been cancelled due to the pandemic in Xiamen. The earliest ETA will now be Nov. 28th."
This means our shipment will arrive at the port in LA on the 28th (if things go according to plan this time). After that it comes up north to just outside of Chicago and sorted there at a warehouse for trucking here to Wisconsin. I'm not holding my breath! Depending on how long our shipment floats around out there in the harbor before being off loaded, we'll be lucking to actually get it before Christmas. Definitely a sad state of affairs.
Highest Product Quality – We sell premium grade LED holiday lighting. The lights are full wave (no flicker), dimmable, sealed one piece (weatherproof) construction and UL approved. Multiple sets can be connected together.  Shop Here
Now on Sale – All of our Vintage style C7 and C9 LED retrofit/replacement bulbs.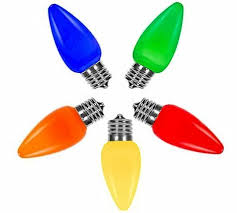 Vintage Style LED C9 Replacement Bulbs $18.75 per box of 25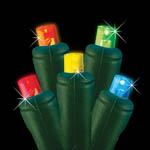 LED 4′ x 6′ Twinkle Net Lights Are Now 20% Off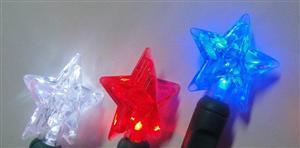 Now On Sale – Show your pride and patriotism with our Red, White and Blue LED Twinkle Lights.  Great for Memorial Day, Independence Day, Flag Day, Veterans Day, Constitution Day and Election Day.
Pre-Lit 6′ Long Woodland Blend Cascading Garland,
7′ Tall Pre Lit Slim Trees, Wreaths and 36″ Swags – NOW ON SALE
A simulated blend of White Pine, Balsam, Cedar, Scotch Pine with Red Berries (Hawthorne/Holly) and varying sizes and shapes of Pinecones. Pre-lit with energy saving 5MM Warm White LED Lights. We also have 24″, 36″ and 48″ wreaths, 9'garland, a tall skinny tree and swags that all match and use the same greenery in all.
Adorn a porch railing, mantel, balcony, eve or a stair railing with this thick and luxurious mix of greenery. The tips are wrapped with 100 commercial quality LED lights that give a warm glow for up to 25,000 hours and plugs into any standard outlet. The Cascading Garlands are not only beautiful but so very lifelike. Add a personal touch by adding your own special ornaments or bow's.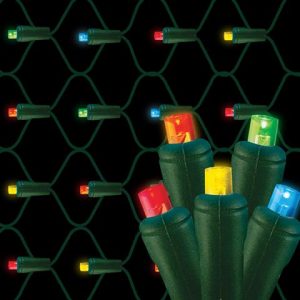 The easy way to Light Up Wire Frame Silhouettes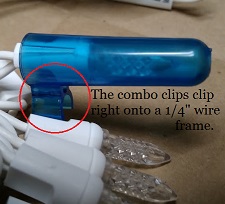 The wire frames below were made by Doug Phillips. To contact Doug, visit his home page  http://wireframedlites.com/ or his facebook page – Wire Frame D'lites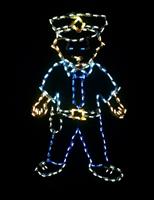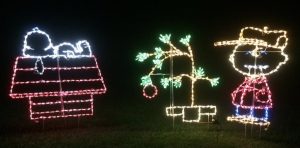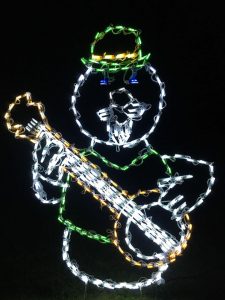 The trees in the picture below are wrapped with the LED 5MM Concave light strings. Also known as wide angle 5mm and button lights.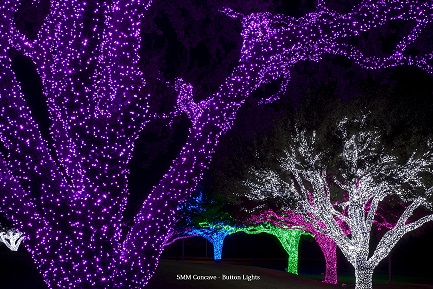 This home is also completely done with our 5mm Concave lights, 5mm Tree Trunk Wraps and our 30″ tall Mini Tree's.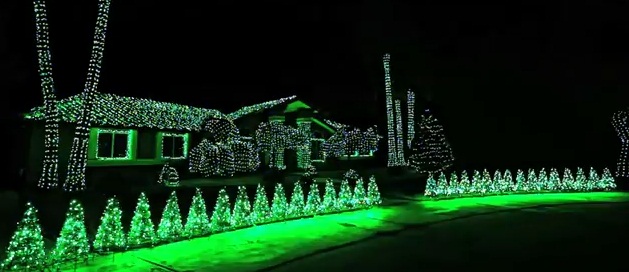 C6 and 5MM Lights.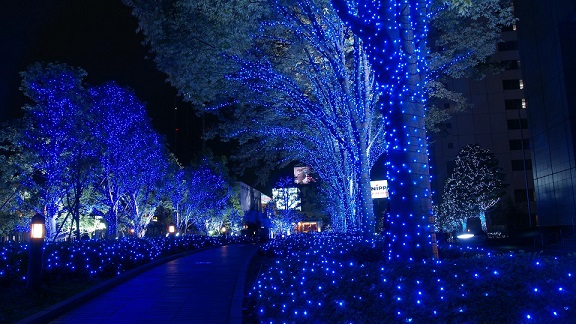 Same home as above picture.

Icicle Lights attached to tree limbs.